Fijet Golden Apple to Rovinj (Croatia)
An exceptional ceremony was held on the dock of the marina in the presence of a large number of citizens from all corners of the city. Majorettes and folklore troupes have created a worthy of a national holiday festive atmosphere. The Minister of Tourism Darko Lorencin, the Governor of the region, with the Mayor Giovanni Sponza and Tijani Haddad, President of the FIJET succeeded on the podium to congratulate the people of the city
Read more >>
Fijet Golden Apple to Opatija (Croatia)
Opatija's landmarks includes the Lungomare, a wonderfuèl costal promonade,the hotel Kvarner, the first hotel to be built on this side of the Adriatic, and the open air Theater, a fantastic cinema and theater built as early as 1934. Opatija is also known as a town of festivals
Read more >>
 FLAI-Italy: Giacomo Glavanio re-elected President. 
The general Assembly of Flai Italy took place at "Citta del Mare" Palermo in the context of "Travelexpo" Our colleague Giacomo Glaviano was unanimously re-elected Prresident. the General Assembly elctected as well a new Executive Committee and a new Board of Directors.A special
Read more >>
Abdallah Gul, President of turkey received Taleb Refai:Tourism contributes to global Peace  
Assabah Daily News:President Abdullah Gül received Secretary General Taleb Rifai of the United Nations World Tourism Organization (UNWTO), and his accompanying delegation at the Çankaya Presidential PalaceGül declared tourism to be a sector that contributes to global peace, interaction between cultures and to the efforts to overcome biases.Informing thePresident about the tourismsector in the world, Secretary General Rifai noted that tourism helps overcome prejudice and al sorts of stereotyping, underscoring the significance of political support for tourism to be appreciated by all. He further reiterated theUNWTO'scorroboration forTurkey, which he said is a special member of the organization and of which he declared they are proud. The UN World Tourism Organization (UNWTO) and the World Travel and TourismCouncil (WTTC) launched a campaign called "Global Leaders forTourism" in 2011 which aimed tourge the world leaders to lend their support fo rtourism. As part of this campaign, the UNWTO and WTTC have presented an open letter to 48 leaders including President Abdullah Gül.
UNWTO - TUNISIA Current challenges and issues for African Tourism  
Tunisia will be from April 22 to 27, 2013 the capital of African Tourism. It will host the meeting of the UNWTO Committee for Africa and an international seminar "Current challenges and issues for African Tourism". Taleb Refai, Secretary General of UNWTO and many African Ministers of Tourism will participate in this big event.
Read more >>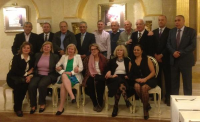 Executive and Board of Directors meeting  Antalya - Turkey
Introduction Speech of the President At the opening of the meeting the president made an introductory speech in which he presented the state of FIJET. "My thanks go to Mr. Ertan Sandıkçıoğlu, the President of ATURJET and his team for the perfect organisation of this meeting in this wonderful hotel…
Read more >>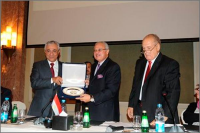 54th FIJET CONGRESS IN Egypt
Egypt hosted the 54th FIJET congress from September 28th to October 4th. One hundred and fifty delegates and guests from 22 countries participated in this big annual FIJET event. The newly renovated 5 star hotel "Sofitel al Jazeera" on an Island on the Nile wich is God's gift to Egypt, in the vicinity of the famous Attahrir Square, hosted the delegates during their stay in Cairo.The opening ceremony at the 5 Star "Four Seasons"
Read more >>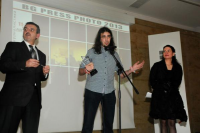 Georgi Kojuharov, ABUJET member won the  prize "Best Shot of the Year" and the Bulgarian Photo contest: BG PRESS PHOTO 
FIJET member Georgi Kojuharov from Abujet won the grand prize at the very prestigious competition "Best Shot of the Year" organized by Canon Bulgaria. His photos are from Syria. He recently won the most prestigious Bulgarian photo contest BG PRESS PHOTO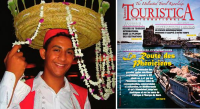 Recovery of tourism sector in Mediterranean destinations 
The travel magazine whose founder and CEO is our colleague and former FIJET member Georges Kahy is considered today one of the most important tourism magazines in the world. In one of the last issues, Jean-Marc Maihol mentioned in his editorial the book written by Alexander Adler, one of the largest international
Read more >>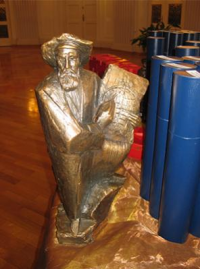 Two FIJET members awarded Croatian 2012 Marco Polo
During a very nice ceremony, two of our colleagues were Awarded 2012 Marco Polo FIJET Croatia for their contribution to the promotion of two tourist destinations hosts our last two conventions. In addition, ten other Croatian journalists were awarded as well this prestigious award. Plamen published through his association all the articles written by himself and 9 of his colleagues in a book titled: Turkey in which they described most of the beautiful sites of Turkey.
Read more >>
AFJET'S GRAND PRIX AWARD CEREMONY
Text and photos by Jacques Campé Established in 1953, AFJET's Grand Prix is awarded yearly to a book or other contribution in French language covering a domestic or foreign tourist destination. On November 24, 2012 it was awarded to « LE PALAIS ROHAN » published by « Les Musées de la Ville de Strasbourg »
Read more >>
Top news